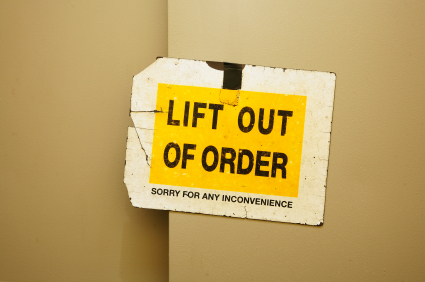 Is something broken in your life?
You know, that computer issue you have been having for the past few weeks.
Or that sound your car has been making for a couple of days.
Or even that injury that you have been resisting to seek professional help on.
What if we had to wear one of those "Out-of-Order" signs when something wasn't working in our lives?
Would you be wearing one?
What's "Out of Order" in Your Life?
In the hustle of daily life, it is easy to ignore things that are not working.
After all, if we don't have time to get our work done, when are we going to have time to fix something?
Yet, sometimes these out-of-order issues are holding us back. They can also result in bigger problems.
For example, a young woman had noticed that her driver's side window would sometimes stick when she attempted to shut it. The mechanism was making an odd clicking noise, and occasionally it wouldn't close until the second or third attempt.
However, she didn't fix it.
She ignored it for a few days. Then a couple of weeks. A few of her friends even mentioned it when they caught a ride with her.
One morning, she was late arriving to work. As she pulled into the parking lot, the window would not go up. She hurriedly ran into work, saying that she would get the window fixed tomorrow.
Of course, it rained that day… for several hours.
"Out-of-order issues cause bigger problems.

They lead to more life friction and stress."
What is out-of-order in your life that is going to cause you trouble?
If It's Broke, Fix It
Don't ignore what's not working in your life. Instead, ensure that you address out-of-order issues in a timely manner.
Here are "5 Rules for Dealing with the Out-of-Order"
Do Your Preventative Maintenance – One of the best ways to deal with the out-of-order, is to prevent the condition in the first place. Make sure that you do the proper maintenance in advance. This applies to everything from your car to your physical fitness.
Listen to Others – We are sometime oblivious to what is not working in our lives. We accept out-of-order as the new normal, and then we stop seeing the issue that needs to be addressed. Outside viewpoints are invaluable in helping to identify what is not working.
Don't Assume That Someone Else Will Fix It – At my local gym there is a piece of machinery that has been missing a piece for over 3 years. One day, I asked one of the employees about it. They said, "Oh, I assumed that someone else had ordered that missing part." Apparently not.
When Safety's Involved, Fix It Now! – Creating more life friction is bad enough, but when safety is involved, it is plain dangerous. In an office, the copier lid had become cracked. Everyone ignored it (See Rule #3), until finally one day one of the assistants accidentally cut their hand open on the jagged edge and need stitches. Needless to say it was fixed the following day. This is a relatively minor incident, but when safety is involved don't wait for bad things to happen.
Get Expert Help – You may not be the right person to fix something. Would you disassemble your car? Or your computer? What might take you hours, could take someone else minutes. Whether it is a computer or car, an expert will probably be able to address the issue in a fraction of the time. You may even be able to learn something along the way.
Fix Your Life
What isn't working in your life that you have been ignoring?
When things are out-of-order, we end up with additional problems and life friction.
Take action today to fix your out-of-order issues.
What is out-of-order in your life?