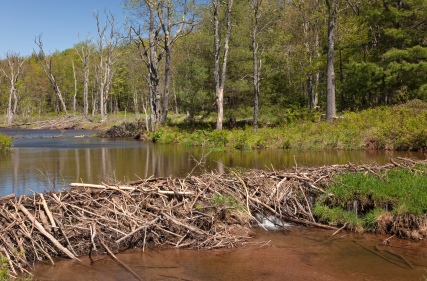 We all know someone who always seems to be holding things up.
Others could be getting their work done if only this person wasn't blocking things.
Sometimes we are so busy trying to get things done, that we don't realize that we are preventing others from getting theirs done.
Are you a dam in the productivity of your organization?
A Dam in the River
You may be getting your work done. But, if you are preventing tasks and information from reaching others, you may be more of a hindrance than a help.
We have all seen the last minute fire drill that occurs because one individual sat on a task or vital piece of information for too long.
I see people who themselves are very productive. However, they ultimately fail because they are holding up more work than they are getting done.
"One individual can hold up the productivity of an entire team.

Or when it is a senior leader, the entire organization."
Don't be the one to hold back your company's productivity.
Damn, Why Aren't Things Getting Done?
When things aren't getting done around you, it may be time to ask why.
Before you jump to the conclusion that certain team members are slacking, it may be time to look at the flow of tasks, information and work.
Are you, or someone on your team, responsible for holding things back?
Here are 5 Things You May Be Holding Up:
Things That Other People Are Waiting On – This is the cliché of being a productivity dam. You are blocking tasks from moving forward. If you are sitting on tasks that others are waiting on, then you are not only affecting your productivity, but that of others.
Things That Need to Be Delegated – Leaders can be guilty of non-delegation. Things won't get done sitting on a desk. Fire drills occur when a boss lets something sit too long and then releases it to the team right before the deadline.
Things Only You Can Do – Sometimes you are the only person can perform a certain task. It could be a skill you possess or simply the power to approve something. In this case, you can be the single point of hold up when things need to get done.
Things That Other People Don't Know About – Some people are guilty of holding back information. They hoard it thinking it gives them power or an edge in their work. However, ultimately they are hurting the company and others who need the information to do their job better.
Things People are Afraid to Approach You About – Some individuals hold back the company's productivity by just being, well, themselves. If you are the type of boss that people are afraid to approach, then you may be causing things not to go forward because your team is afraid of your response.
Don't Hold Things Up
You may be one of the most effective people in your organization. However, if you block the productivity of others, you may do more harm than good.
Don't hold back the work that needs to reach other people. If you are a boss, don't hold back your team due to your inefficiency.
Ensure you aren't the blockage in your organization's productivity.
Sometimes you can increase efficiency by just getting out of the way.
Do you know someone who is a productivity dam?