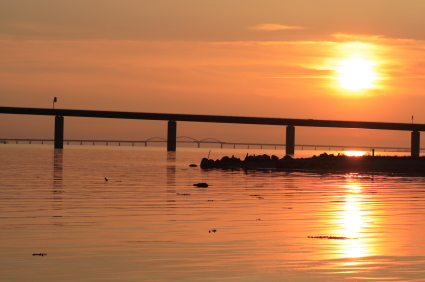 I have a friend who just left his former employer. He moved on to happier endeavors. (At least, so far!)
As he was preparing to leave he told me how frustrated he was with former employer and boss.
The thought crossed his mind to send a letter to the CEO telling him some of the mistakes and misdeeds of his former bosses.
Should he give them a piece of his mind?
Or just leave in peace?
Burning Down the House (or Just the Bridge?)
I advised my friend against starting a flame war with his former employer.
He stated that it would make him feel better and it might provoke some change at his former company.
I responded that I did not think he should look backwards at this point.
And more so, my main message was…
"Burning bridges is a waste of time.

Everyone involved ends up marked in some way.

Use your pent-up passion and energy to move forward, not backwards."
Do you really think that your bridge-burning, fire-breathing departure rant is going to change things? That leaders in the company will suddenly come to their senses?
Unlikely.
More probable, you will be branded a trouble maker. (Right or wrong.)
You won't have burned down the house, but merely your bridge, your relationship, with the company and anyone still there.
And you will have wasted a lot of time, effort, and energy in the process.
Wasting Time with Fire
You are leaving for a reason. Either you are not happy, you have found a better opportunity, or just a new calling.
Whatever the case, you have decided that you are departing. If you spend time burning bridges on your way out, you will only have to rebuild them if you ever pass back this way. It's just not worth the time and effort. And it's dangerous.
When you play with fire, there can be collateral damage and unintended consequences.
Here are 10 Reasons that Burning Bridges is a Waste of Time:
Burning Bridges is Childish –  This is the purest case of the immature child not getting their way. You are upset so you are going to throw a fit and stomp off. The mature individual makes their choice and makes their own way. It is not about right or wrong at this point.
You Don't Know What Will Burn – When you play with fire, you never know what is going to burn. You may try to burn your former boss, but there can be collateral damage. When a teammate departs and figuratively burns down the house on his exit, he leaves others in a lurch. A departing worker may not only tarnish their own reputation, but that of their friends and teammates, as well.
Never Say Never – As in, "I am never coming back here." These are famous last words. You never ever know when life may bring you back down this path. How sheepish (and regretful) you will be if you have to return and you burned all your bridges.
It's a Small World – Someone you burn now, could end up on the other side of the equation down the road. A company did a poor job terminating one of their executives. Six months later he was a VP at one of their largest, most important customers. The tables were turned.
It Wastes Time & Energy – Some may disagree on this. But simply put, burning bridges is a waste of time and energy. Don't expend valuable time and effort getting even with a former employer. It is a waste of your resources.
There Is No Satisfaction – You think there will be great satisfaction in telling off your former boss or employer. You will find that it fades quickly. (See Reason #1.)
You Are Not Always Right – It could be you. Really, it could be. And you may not realize it for some time, or ever. But, sometimes we are the troublemaker and we don't realize it. And sometimes perspectives are going to be different no matter what.
It May Be Them, but it Doesn't Matter – You may be right, after all. However, most bad people do not see themselves that way. There is no reason to argue at this stage. Move along.
Someone Else May Need the Bridge – People often burn bridges because they think they will not need them again. However, what if a friend or colleague needs that bridge at a later time, but you have already destroyed it?
You May Not Get Burned, But You Will Still Smell of Smoke – Your reputation will be tarnished. Once upon a time, you might have gotten away with it. But these days, the whole world will know. between social media, LinkedIn, etc. people will know. And you will be less employable as a result.
Time Wasted, Relationships Destroyed
Next time you think about intentionally burning bridges upon your exit, think again.
It is not worth your time or effort.
You never know the collateral damage, or if you will ever need the bridge again.
Put that effort into your future, not your past.
When was the last time you or someone you know burned bridges?