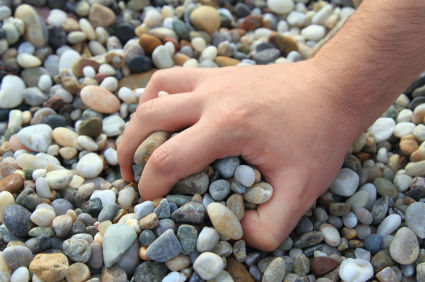 Sometimes you just can't get the big things done. At least, not right now.
Life puts things in your way.
Or other people hold you back.
But, don't give up. Don't get frustrated.
When you can't do the big things, instead, do the little ones.
Sometimes You Don't Get to the Big Ones
There will be days that you just cannot get to the big things on your list.
Sometimes you can't get big things done because:
– You don't have the time (literally!)
– You don't have the energy
– There are obstacles beyond your control
– You are waiting on someone else
There are ways around the obstacles. And sometimes you can get your productivity going.
However, other times, you just can't get to the big things despite your best efforts.
What to do?
When I find myself in this quandary, I attack the little things.
Take On the Little Ones
When the big things are out of reach, you can still be productive.
In fact, you might surprise yourself just how much you can get done.
Here are just a few of the reasons that you should do the little things:
Sometimes Your Energy is Low – When you can't do the big things due to your energy level, it makes sense to take on something a little smaller. Try doing some low energy tasks, and get back to the big things when your energy levels are higher.
A Bite at a Time – Maybe you have an elephant to eat. Maybe now is not the time to attack the whole thing. Instead, break off a smaller portion and do it for a short time.
Build Momentum – Even doing small tasks brings a sense of accomplishment. Let some small wins build your productivity momentum. Soon you will be ready to attack those big things again.
Whittle That List – We all benefit from paring down our todo list. When big things are hung up, is a great time to whittle that todo list. Use the opportunity to bring your list back down to a manageable size.
Small Things Add Up – While getting big things done might make a bigger splash, doing a whole bunch of small tasks can add up quicker than you think. Don't underestimate the productivity of getting many small projects done.
Sometimes It

IS

the Little Things – Sometimes, the little things count more than you think. Details matter, and small things are sometimes the most important. This is especially true in relationships. When I can't concentrate on a large project, I will touch base with individuals personally. Touching base in person can be much more powerful than sending an email or making a phone call.
Get Anything Done – And sometimes, something done is better than nothing. When you cannot get the big things done, it is best to use the time wisely. That way the lesser tasks are not hanging around when you do get back to what's important.
They Add Up
When life keeps you from getting your big tasks done, take on the little ones.
You can still be productive, and even small things can add up quickly.
And sometimes, the small things make all the difference.
What do you do when you cannot get the big things done?