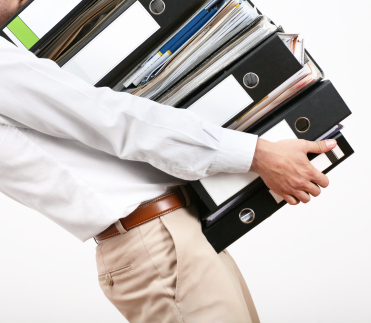 Are you not getting your work done?
If not, what are you doing? What is taking up your time?
Maybe you are not getting your work done because you are doing everyone else's.
We all want to be helpful, go-getting, problem solvers. However, this sometimes leads us to take on workload that is not ours.
We can soon find ourselves doing everyone's work but our own.
Are you doing your job or everyone else's?
Whose Job is It Anyway?
I recently met with a colleague who was too busy.
They claimed that they just didn't have enough time in the day. They were constantly running ragged and taking care of last minute tasks.
We took a close look at specifically what they were working on and how they were spending their time.
Astonishingly, we found that over half of their time was spent on collateral duties and even tasks that were specifically assigned to others.
"This individual was literally doing everyone else's job… just not their own."
As companies are doing more with less, chances are that you have been asked to take on extra roles and responsibilities. However, there has to be a balance in worker productivity. One person cannot do every job in the workplace.
This creates a precarious environment for productive people. When you are good at getting things done, you will find that more work will find its way to you.
It can be a self fulfilling prophecy. Until the work is being done by the few, and the masses are happy to sit idly back and skate.
Do you find yourself doing everyone else's work?
Do Your Work
If you are overloaded, it might be prudent to take examine exactly what you are working on.
Take a hard look at the tasks that consume your day.
Are you doing your job? Or are you occupying your time with others' work?
Here are 6 Ways to Avoid Doing Other People's Work: (And get yours done!)
Learn to Say No – Saying "No" is a key skill in the workplace. Too often people are afraid of being perceived as negative or not being a team player. However, if you are unable to say "No," you will soon find yourself drowning in all kinds of extra work that is not your own.
Know Your Load – Do you know your load? Are you aware of just how much you are carrying on your plate? Until you are, you will be unable to tell if you are truly overloaded. A good way to do this is to make an obligation list. This will also help you quickly see just how many collateral duties you are carrying.
Be Wary of the Master Delegators – There are some people in the workplace who have a degree in getting other people to do their work. You know who they are. Say "No" early, or better yet avoid them altogether. They will quickly figure out that you are not going to do their job and will seek out easier targets.
Don't Be Afraid to Let a Ball Drop – This may sound blasphemous from a business perspective. You are going to to let the team fail? You aren't going to help that colleague in need?  But, wait… what is in the best interest of the company: saving a small issue now, or hiding a much larger problem? Are you covering up a problem by doing extra work for someone else?
Don't Be the Fire Department – Being known as the problem solver, is a good thing. But, when people start looking at you to put out their fires…that is different. They will keep coming back and you will soon be an expected service. Strive to be the A-Team that people call when there is a tough job, not the Fire Department that they call when they failed to keep something under control.
Clearly Define Your Domains – I am not in favor of formal job descriptions that list down to the last detail of what your responsibilities include. However, there is a different way. Define your domains and areas of responsibility. That way you will know when you are straying too far from your position.
Get Your Work Done
Do you own job to the best of your ability.
However, you can't do your job and everyone else's.
It just doesn't work.
As the saying goes, "Put your mask on first, then come to the rescue of others."
The same goes for your work.
Have you been put in the situation of doing your job and someone else's?