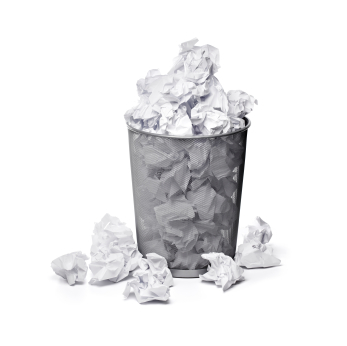 Yesterday, I went to dispose of a piece of paper from my desk.
But, when I turned to my trash can… it was full. Actually, it was overflowing.
What did I do?
Since I was in the middle of a task, I put the paper back on my desk. I told myself that I would empty the trash at the next opportunity.
It occurred to me, that a full trash can was not very productive. It was not doing its job very well.
Is your trash can full?
Better yet, what else in your life is full and not doing its job?
Full To Overflowing
My trashcan was overflowing. (I like to throw things out.)
However, that was not helping me as my day went on. On more than one occasion I found myself refraining from throwing something out since I had no where to dispose of it. Those items ended up on my desk.
The trash can example stayed with me most of the day. I witnessed several other instances of tools not doing their job because they were completely full:
– A co-worker was unable to leave a message for his boss because their voicemail box was full.
– Someone's email inbox was over the limit, and thus they couldn't send or receive email.
– A team calendar was double and triple booked for most of the day.
– A friend's todo list was overflowing to the point that they could not keep track of it.
Do overloaded tools affect your productivity at work?
Full Isn't Functional
It is important to keep your productivity tools in working order.
"Our productivity tools are there to aid us and help us get things done. However, when they are overflowing to the point of being non-functional, they actually become a hindrance."
Which of your tools are full?
File Cabinets and Drawers – This is similar to the trash can example. If your cabinets and drawers are overflowing, you will not be able to find what you need or be able to put things away when you need to.
Desk Top – This one deserves special mention. I was recently in an executive's office and they had paperwork sprawled out across their desk that was almost a foot high. Not a very productive work scenario. Is your desk clean?
Voicemail – Voicemail can be very time consuming. It can be frustrating when it is full. Try having your voicemail messages forwarded to your email or to another phone. I eliminated my work voicemail box by having it forward to my iPhone voicemail. (I prefer the iPhone's visual voicemail anyway.)
Email Inbox – Your email inbox is not a storage area, nor is it a todo list. If it is overflowing with thousands of messages you will inevitably lose important items among the noise. (Here are some ways to get tough with your email.)
Purse or Wallet – If you purse or wallet is busting at its seams, you are not going to be able to access it very easily. And you probably won't be able to find that one item that you suddenly need.
Do You Need to Empty the Trash?
Take a look around your workspace.
What is full? What is not doing its job?
It could be your trash can. Or your inbox. Or even your todo list.
Make sure that your tools are able to do their job in keeping you productive.
When you need them, they will be ready for you.
What in your workspace is full? How does it affect your productivity?