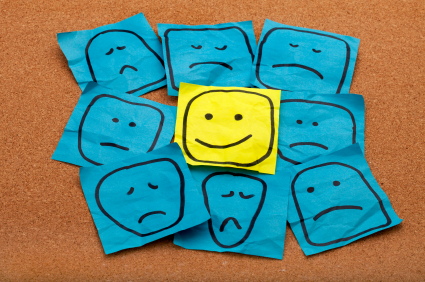 Can you win on positive attitude alone?
Maybe not.
Then again, you might.
Sometimes a positive attitude makes all the difference.

Bring Your Positive Attitude
Plain and simple, you get more done when you are positive.
It is an energy source that can motivate and invigorate you.
It can drive others, too.
In fact, people are attracted to it.
A positive attitude can be the tipping point, between mediocrity and excellence.
"All other things being equal, it is attitude that separates winners from the rest of the crowd."
Do you bring a positive attitude to everything you do?
Attitude Wins
When you are feeling unproductive or unmotivated, check your attitude.
Consider how your attitude is affecting you and those around you.
Don't underestimate the power of positivity.
Here are "10 Ways a Positive Attitude Can Help You Win"
Attitude is Contagious – You influence those around you. A positive attitude is as contagious as the flu. In fact, one positive person can lift an entire team to better performance.
Complaining is Procrastination in Disguise – Complaining wastes time. It's that simple. What could you get done if you put the time you spent complaining to better use?
Turn an Enemy Into a Friend – A positive attitude can melt even the toughest opponent. Sometimes you can turn an enemy into an ally simply with your attitude.
From Bad to Good – Ever turned around a problem simply with your attitude? It can be powerful. While others are upset and losing their cool, keep your positive attitude front-and-center. You will be amazed at the results.
Brighten a Stranger's Day – Spread your positive attitude even with those you don't know. Make someone smile or look on the bright side of their day. Remember, it's a small world out there. You never know where you might meet that stranger again.
Stand Out in the Crowd – A positive attitude can make you stand out like a shining beacon. Do you know someone like this in your workplace? Someone that everyone looks to for positive energy?
Get Through That Tough Task – There is truth in the sayings, "A spoonful of sugar makes the medicine go down" and "Whistle while you work." No matter the task, a positive attitude can make it more enjoyable.
Make Others Like You – People are attracted to a positive attitude. No one wants to hang out with Debbie Downer. People want to hang out with those that are positive and fun. Which are you?
See the Opportunity – When things seem at their lowest, can you see the silver lining? Lost that contract? Or your job? What now? Sometimes the biggest problems lead to the biggest opportunities. Make sure you look on the positive side even when things are at their worst.
The Difference Between Winning & Losing – Attitude wins. Ask the interviewer who gets the job. The interviewee with the positive attitude or the one who tells them about all their troubles?
Be Positive
Regardless of what life deals today, let's be positive.
Even when walking into a bad situation.
It's a choice, and it's up to you.
Bring your own attitude.
Do you bring a positive attitude even when things are tough? When was the last time you won because of your positive attitude?