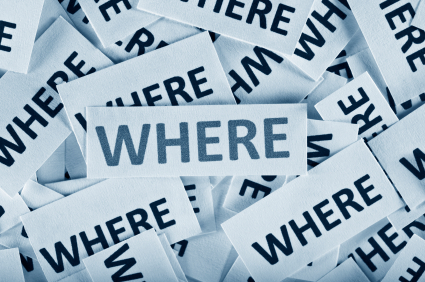 Today, I want to ask, "Where do you get things done?"
Not when. Not how.
But, where?
Often we talk about being, "In the zone."
I want to know where your zone is located.
Where are you most productive?
Not When, But Where
We often talk about time-shifting, or "Doing a task at the time when it reduces the amount of time required to complete it."
But, what about  place-shifting?
"Can we shift work to the places where we are most productive?"
Where are you most productive?
If you are a student, it might be the library.
If you are a corporate worker, it might be the quiet conference room that you seek out to get important work done. (Away from your co-workers that are whooping it up.)
Don't underestimate the power of location to fuel your productivity.
My Favorite Productivity Places
We all have our favorite places that we go to when we need to get stuff finished.
Where do you go?
Maybe you do it subconsciously.
However, we all have physical locations that make us more productive.
Here are my 6 Favorite Places to be Productive:
Meeting With Myself – Especially in a corporate setting, it can be difficult to get any time by yourself to do creative work. I will book a meeting with myself and go to a quiet conference room to complete project work and other high priority tasks.
Outside – Too often, we are limited by the walls of our office. I find that going outside can jump start my productivity. Even getting a quick breath of fresh air can revitalize you and get the productivity forces flowing.
Someplace New – Want to spark new ideas? Go someplace new. Too often we settle for the same old environments. I find that new places lead to new ideas. Go outside your environment's comfort zone. You may find a new perspective on the work you are doing.
My Secret Place – We all have a work space that only we know where to find. For me, it is a secret meeting space at my office. No one thinks to looks there and there is little or no passing traffic. I could tell you where it is, but then I would have to…
In My Music – OK, maybe this is not a physical place. But, when I need to get work done, I have a special iTunes playlist that is practically guaranteed to get me in the productivity zone. I have used the same music for years when I need to get in the "writing zone."
On the Road – I get a lot of work done when I am the road. Some people do not. They spend time reading the AirMall magazine and watching the hotel movies. I plan ahead and use the isolation to get tremendous amounts of work done on the road. (Here are some tips for getting work done on a plane.)
Go To Your Productivity Place
Consider where you are most productive. Think back to the places where you got the most work done.
Where were you "in the zone?"
Your favorite productivity places can help you get more done in less time.
When you need to get important work done, go to your own productivity places.
Where are you productive? What are your top productivity places to go?