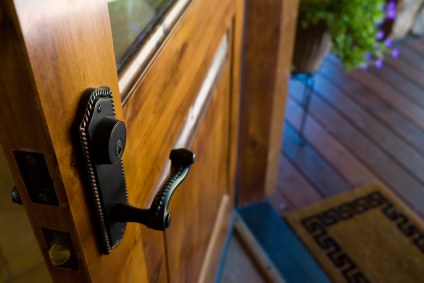 One day, I was holding a meeting in my office with some visiting clients.
Suddenly, without warning, one of my team members walked into the room and asked for a document that she could not find.  It was not urgent and she probably could have found it on her own.
Silly me, I had not thought to close my door.  After her departure, I got up and gently closed the door to continue the meeting.
There were a few audible gasps.  My guests were clearly uncomfortable.  You can do that? You can shut your door?
I was a bit surprised, "Um yes, that is what most doors are for… closing."
They informed me that at their company, they were not allowed to close office doors.  They have a strict "open door" policy and all managers are expected to keep their doors open.  In fact, one manager had recently been written up for shutting his door.
Now, I was uncomfortable.
What?  Are you serious?  How do you get things done if your doors are always open?
What is an Open Door Policy?
What does an "Open Door" policy mean to you?
Does it mean that your boss' door is always open?
That they are always open to being interrupted no matter what they are currently doing?
Or does it mean… that your leader is approachable and accessible.  That you know that you can come to them with almost any matter, if you need to.
I choose the latter.
First, because it is about good leadership.  And second, because it is about productivity.
Why would you want your senior leaders being constantly interrupted while they are doing some of the company's most important work?
I doubt many hospitals have open door policies.
"Um… Excuse me, Doc, I see you are in the middle of a procedure here… but I just had a quick question about my expense report…"
Yet, this in the "always interruptible" environment that many employers expect their leaders to operate in.
Does this make any sense?
Why the Open Door?
The creation of an Open Door policy was originally about leadership.  Specifically, it was meant to address bad leadership.
It was to prevent managers from being inaccessible to their team members.  It was to allow employees to voice their opinions, concerns, and yes, complaints.
Somewhere along the way, this got twisted.
Some HR individual or misguided boss said, "To ensure managers comply, let's forbid them from physically closing their doors!"
Another genius took it a step further and said, "Let's just get rid of the doors!"
Or better yet, let's put everyone in cubicles.  You can see where this is going.
"If you have managers that you cannot trust to close their doors… you need new leaders, not new doors."
An open door policy should mean that you have the right to walk in my office, that I am approachable, not that the door has to always be physically open.
People should know that a closed door means, "Work in Progress."  If they have an emergency, they can knock on the door and interrupt.  Lower priorities can be taken elsewhere or wait until a more appropriate time.
It is about setting expectations.  Set expectations that the door will be open when you are available.  Perhaps, even set "office hours" as to when you will be available for conversation.
Closing the Door to Get Work Done
It is not about an open door… it is about open leaders.
And leaders need to get things done, too.
And yes, then we will re-open our door.
Does your workplace have an "Open Door" policy?  How does it affect productivity in your workplace?