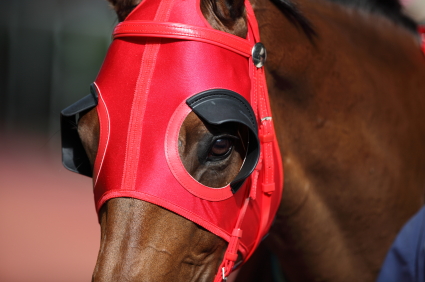 The other day I walked into a co-worker's office.  She was also on the phone and appeared to be typing an email.  There were several stacks of paper spread across her desk.  She waved to me that it would be just a second.
Hanging up the phone, she said, "What's up?  I just finished a conference call and I am trying to respond to this message."
Politely gesturing to the papers all over her keyboard, I asked, "What is all that?"
"Oh… I have to get this expense report done.  I have been working on it for 3 days."
Just then, the phone rang.  "Just a second," and she answered it.
I said, "I'll catch you later," and excused myself.
Does this sound familiar?  Lots of stuff in progress, but nothing getting done?
In a busy world, where we are constantly bombarded with new things to do and interruptions, how can we focus on one thing to get done?
Maybe we would be more productive if we had "blinders" to help us only see one thing at a time.

Where Are Your Productivity Blinders?
Do you get more done when you work on one thing?  Or when you work on many things at once?
Many people swear that they can multitask.  However, it has been demonstrated time and again that your mind works more efficiently and effectively when it is able to concentrate on a single task.
Here is another small revelation…
"You can't do everything.  Not at once anyway."
Multitasking leads to "multiplying" the time required to finishing a series of tasks.
What you need are some productivity blinders to:
Prevent Interruptions
Keep You on Task
Keep You From Doing 57 Things at Once
Allow You to Focus
Put Your Blinders On…
Sometimes it is necessary to shut out other tasks and priorities in order to get the task at hand completed.
Here are just a few tips to help you focus and "Put Your Productivity Blinders On…"
Go to a Quiet Environment – Find a peaceful place to work.  If your cubicle/office is not, then find some place that is.
Turn Things Off! – Turn off the interruptions.  The email dings, the Facebook alerts, and yes, the phone.
Only Have Needed Materials – Clear your desk or work area of everything except the materials related to the task at hand.  Having other stuff laying about only leads to distraction.
Cut the Connection – Really.  Turn off the Internet.  This sounds extreme.  But you will be amazed how much more work you can get done without the temptation to "look up just one thing."
Shut the Door – If you are in an office, don't be afraid to shut the door when you are actually working.  One of the biggest workplace productivity killers is the myth of the "open door" policy.  (Upcoming post about this…)
Set Expectations – If you are working on a high priority project, set expectations with your team or co-workers.  Letting them know that you need some priority time will let them keep lower priority items until you are available again.
One Thing at a Time
Today, when you need to get something important done, try putting on your "blinders."
You may find that you are better able to concentrate and get tasks completed.
After all, many things at once leads to many things started.  One thing at a time gets things done.
Do you need productivity blinders?  How do you shut out distractions and interruptions?