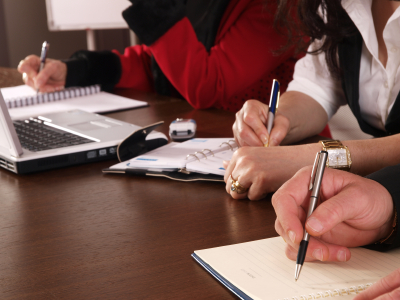 When it comes to our time management systems, we have lots of tools to aid our productivity.
We have address books.  Calendars galore.  Todo lists and more.
But, when it comes to taking notes, many people end up writing things down anywhere and everywhere.
On legal pads, never to be used again.  In the margins of handouts that will either be piled or thrown out.  On random scraps of paper and on Post-Its.  All of which will end up who knows where.  Sound familiar?
Do you have one place to take your notes?  And after you write them down, can you find them again?
Where Do You Write Things Down?
I have written previously about the importance of defining your time management system.  It turns out that the most common tool missing from people's time management toolbox is the notebook. A simple place to keep all of their notes.
With the advent of smartphones and laptops, we have gotten better at keeping address books and calendars.  It is easy to carry hundreds (if not thousands) of contacts in our phones.  And accessing our calendars is usually as close as the web or our computer.
However, an area that many neglect is note-taking.
What happens?  When presented with a piece of information or a random todo, we grab the closest thing at hand, whether it is a napkin or a Post-It note.  We may capture the info, but then we lose the piece of paper that we jotted it down on.
Keeping all of your notes in one organized place is equally important.
A former colleague was a master of taking notes.  In every meeting, she would write furiously on her yellow legal pad. Unfortunately, she didn't have a method to keep her notes.  After each meeting, she would simply tear the top few pages off of her pad and these would end up piled in her office, never to be viewed again.
One Place For All Your Notes
The most effective way to keep your notes organized is to have a single place for your note-taking.  This keeps all of your notes together.  This also means that you only have one place to go when you need to retrieve a note.
Here are a few tips for your note-taking:
Have a Single Notebook – I use a Moleskine notebook.  This keeps all of my notes in a neat, portable tool.  If you use a pad or loose leaf notebook, it will take greater effort to organize and file your notes.  For most people, the simplest solution of a single notebook is best.
Keep Your Notebook With You – You cannot use your notebook if you don't have it at hand.  I may be the extreme example, but I carry my notebook almost everywhere with me.  (Yes, everywhere.)
Review Your Notes Regularly – I review my notes daily.  I take a look at the day before to jog my memory of any todos or important information that I captured.  I might highlight something if I think I may need it again in the future.
Don't Use Scraps of Paper – Be disciplined.  Resist the urge to write things down on miscellaneous pieces of paper.  When you find yourself writing down a phone number or voicemail message, reach for your notebook instead of that pad of sticky notes.
The Power of Your Notes
Does your time management system have a note-taking tool?  If so, does it keep all of your notes in one place?
Many people spend too much time looking for and retrieving information that they already captured.  Having a single place to keep your notes can be very powerful.
Recently, I was discussing a business matter with a co-worker and there was some debate about some terms that had been worked on previously.  Within a few moments, I was able to open my notebook, and refer to the meeting by date that had happened many months earlier.  I had the numbers recorded that had been discussed.  Needless to say, it saved a lot of time and effort.
So, when you find yourself about to jot down something on a napkin or a Post-It, take the extra second to grab your notebook instead.
What is your note-taking tool? What are you best note-taking tips?
Related Posts:
Why You Should Try a Moleskine Notebook