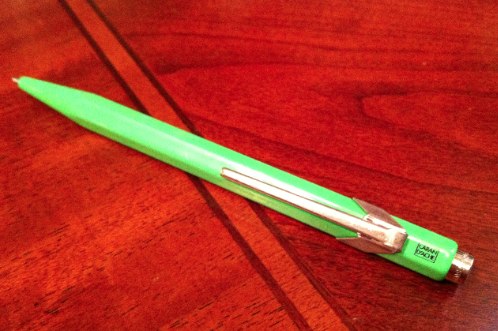 Get My Pen! – Read below for a FREE chance to WIN my favorite pen.  I will give one away next Monday!
All of us need a pen.  Even if most of your time management is done via electronics, you probably still need one to take notes.
I have yet to meet anyone who is 100% paperless.
You need a pen, if for nothing else, to sign things.  It always seems to impress people when you use your own pen to sign forms or receipts.
So, what is your favorite pen?
A Good Pen Can Lead to Productivity
How can a pen make you more productive?
Just like keeping your todo list visible, having a pen handy also leads to action.  Having it ready when you need to write something down or just having it in your hand can lead to creativity.
Here are just a few ways that "A Good Pen Can Make You More Productive"
You Use Tools You Enjoy – I often say, "Use tools you'll use."  In other words, the more you enjoy the tools, the more likely you are to use them on a regular basis.
More Likely To Take Notes – When you have a pen at hand, you are more likely to write things down.  Try it in your next meeting.  By having my favorite pen ready, I find I take almost double the amount of notes.
You Are More Likely to Brainstorm/Doodle – I am not talking about drawing pictures during meetings!  But, I am referring to the fact, that with a good pen, you will be more likely to scribble down ideas, even passing thoughts.  Some of the best ideas are developed through random jottings or drawings.  Let your pen become a source of new ideas and solutions.
Good Pens Write Well – Good pens just write… better!  If you have ever had a favorite pen, you know the difference between a good and bad pen.  This again makes it more likely that you will want to capture that great idea!
What is Your Pen?
Pens are wonderful because it all comes down to personal preference.
Some people like expensive pens.  Others prefer cheap pens.
Some like gel ink.  Some like felt tips.
My current pen of choice is by Caran D'Ache.  (See picture above.)  It is not an expensive pen, probably about $20.
The one I have now is an obnoxious bright green.  To me, it signifies "Go!" or "Action!"  The color also makes it very hard for one of my colleagues to make off with it, since it stands out.
Caran D'Ache pens come with a wonderful ink cartridge.  However, I prefer gel ink, so I swap it out with a blue Parker Gel refill.  Just my preference.
Get My Pen!
I want to hear what your favorite pen is!
Some like fountain pens.  Some like Pilot Gel pens.  Whatever your favorite, please share below.
I am also giving you a chance to WIN my pen.  Well, not my green pen.  But, the exact same Caran D'Ache pen in a nice professional gray color.  I will even include a Parker Gel refill, so you can get the same experience that I like.
All you have to do is share your favorite pen type in the comments.  Or if you don't have one, simply leave a comment below asking to be entered in the contest.
Next Monday, I will draw at random.  Best wishes and happy writing!
What is your favorite pen?  Does it make you more productive?
Share below to be entered in the drawing to WIN my pen!
Related Posts: