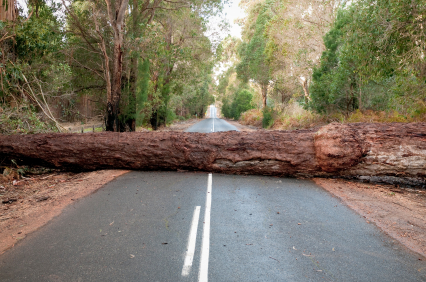 The other morning I was out running 4 miles on the local nature trail. As I came around a bend, I saw in the distance that a tree had fallen and its branches were laying across the path.
As I got closer, I watched a jogger reach the branches and then turn around, heading back past me. A cyclist did the same thing, reaching the blockage and then retreating in the direction he had come.
I had to make a choice. I was not ready to head back yet. If I did, it would cut my morning run short and I would not get the exercise I wanted.
As I reached the obstruction, I surveyed the area. The tree was fairly large. I looked to see if I could go off the trail to go around the branches. On one side was the tree itself and on the other was a small creek.
Just as the obstacle was starting to appear impenetrable, I noticed that with a couple skillful steps, I could go through the branches.
And that was what I did… I stepped right through the blockade.
With a few steps over and between, I was on the other side. And I continued my run…
What's Blocking Your Path?
In our daily lives, many things get in our way. Things that prevent us from getting our work done, and stop us from reaching our goals.
While you cannot stop obstacles from appearing, you can choose how you deal with them. Sometimes, it is a matter of perspective. Other times, it is a matter of effort.
One of the best analogies on obstacles was from my former teacher and mentor Randy Pausch. Randy called obstacles "brick walls" and here is how he thought of them:
"Brick walls are there for a reason. The brick walls are not there to keep us out. The brick walls are there to show how badly we want something. Because the brick walls are there to stop the people who don't want something badly enough. They are there to keep out the other people."

– Randy Pausch
So, how badly do you want it? How important is it to you to overcome your obstacles?
Here are a few tactics to help you overcome the "brick walls" in your life:
Go Around, Through, or Over

– Get tough. Most obstacles look more formidable from a distance than they really are. Can you simply sidestep, climb over, or go through your obstacle? Many times you can.

Think OUTSIDE the Box

– Sometimes the answers are right in front of you. Or rather the tools are. When you find yourself inadequately prepared for a situation… get creative. Many people will give up because they do not think they have the tools needed to do a task. Sometimes you can "MacGyver" your solution out of other supplies and items available.

Find a Different Path

– People often turn back from their goals because they don't realize there are more than one path to success. Don't limit your thinking that there is only one way, one job, or one career to reach your goals.
Don't Take No For An Answer – Kids are great at not taking "no" for an answer. However, somewhere along the road we lose that, we begin to accept "no" as a final answer. Don't be afraid to challenge "No." Sometimes you have to ask many times (or in different ways) to get to "Yes."

Break the Rules

– Of course, one way to overcome rules and obstacles is to ignore them. Many rules that you may encounter are simply "red tape." If you do use this tactic, you may get some pushback or flak, after all, "You can't do it that! It's against the rules!"
How Badly Do You Want to Reach Your Goals?
Obstacles can only stop you if you let them. It may take more time, effort, (and sometimes money), but you can overcome any obstacle with enough desire.
And remember… the "brick walls" are there to make you prove how badly you want it… and to keep the other people out.
What's blocking your path today? And what are you going to do about it?
Related Posts: