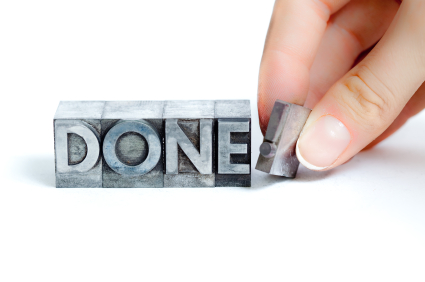 Are you a multitasker?  It is OK, you can admit it.
Are you one of those people that is constantly working on 57 different things?
Multi-tasking: It just doesn't work.  Trust me.
The truth is… it is all about priorities.  Of those 57 things you are working on, I'll bet 3 are important.
At the end of the day, will you be better off with 57 things started or with those 3 most important items done?
Why It's Better Done Than Started
Have you seen one of those people who flits from task to task?  Maybe a co-worker or friend.  A true busy bee.  They are always very, very busy.  Yet, they don't seem to accomplish much.
In fact, while they are a flurry of action, they are floundering to stay ahead.  Busy will only carry you so far.  Eventually, reality catches up.  Don't get me wrong, there are workplaces which mistakenly reward busy instead of results.  If you are in one, get out…because they don't tend to stay around very long.
Really, it's all about completion.  It doesn't matter how many things you start.  It is about how many you finish. Starting your taxes is good.  Finishing them is what counts.  Starting to write a business proposal is good intent.  But, it does not deliver results.
In fact, starting but not finishing, can actually create more work later.  The simple task that you begin and then pause will take more time when you return to it.  You will have to spend extra time figuring out where you left off.
How to Get Done
If you are a frequent multitasker, you are probably familiar with todos and projects undone.  Here are a six tips to aid you in "Getting Done."
Use a Today List

– Have a list of the things that you must get done today.  I call this a "Today List."  It is usually best to keep it separate from your todo list.  Starting out, I recommend you limit yourself to only 3 items on your Today List.  If you get nothing else done today, you will finish what is on your Today List.  These are the tasks that will be shown no mercy.

Resist Starting Other Tasks

– No matter how simple or short the task, make extra effort not to start other todos before finishing what you are working on.  Catch yourself putting something down in midstream and finish it before starting something else.

Have a clean workspace

–  The power of a clean workspace if often underestimated.  Multitaskers are infamous for cluttered workspaces.  But, they will tell you that it is an organized mess. Of course, they know where everything is.  A clean workspace is essential to getting things to done.  Take the 5 minutes to clean up your area before starting important work.

Avoid Interruptions

– It has been show that after even the simplest of interruptions, it can require 15 minutes or more to get back on track.  When you are working on your high priority items, minimize your chance of interruptions.  Close your door if necessary.  Do not answer calls.  Go find a quiet place to work.  Go to your "Fortress of Solitude" if you must, if it means getting things done without interruption.

Eliminate Distractions

– The web and email are probably the best examples.  How many times have you been in the middle of a task and then suddenly decided to look something up on the web.  23 websites later, you realize you should get back to your work.  Close your email client.  Shut off your internet connection if you need to.  Reduce these temptations by eliminating them, if even for a short time.

Build Momentum

– Finishing tasks gives you more energy.  The positive feeling from completing something will drive your productivity even higher.  That is why it is so powerful to complete tasks first thing in the morning.  It accelerates you all day long.
Done Wins
Are you the busy bee that does not finish anything?  Instead of working on many things, try limiting yourself to your top three tasks.  You may be surprised how much more effective you become.  And you will probably get more done in the process.
Remember: Intent doesn't win.  Finishing wins.
Sometimes 3 beats 57.  Actually, it almost always does.