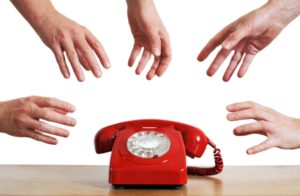 Once upon a time people rushed to answer phones.  For those old enough to remember, you had to get to the phone.
At one point we did not have answering machines.  We did not have even have CallerID.
So, if you didn't get to the phone…you did not even know who called.
——-
Today is different.  We carry our phones in our pockets.  We take them everywhere.  (Even to the bathroom).
We have CallerId and visual voicemail.  We know who is calling, who called, and what they wanted.
Yet… most people continue to
let the phone rule their life instead of using it as a productivity tool.
Too often you see people answering their phones in a meeting.  During a conversation.  And yes, even in the movie theatre and
in the bathroom!
It is a
huge
time waster.  And it destroys productivity.
My recommendation to improve your time management and productivity is simple…
Stop Answering the Phone! 🙂
Experiment

: Do not answer your phone for a week.  Yes.  You are going to intentionally miss calls.  If you have visual voicemail or a service that emails your VM's, you will quickly know what you missed.  You will be surprised how many calls were unnecessary or resolve themselves.  Or better yet, can be addressed later on
your
timetable.
Just because Johnny wants to know what restaurant you want to eat at next week on the business trip, does not mean he needs to interupt you in the middle of a report you are constructing.
Tips for when you need to answer:
Answer  with

name

of person of the person calling (they should already be in your address book and thus on CallerId)
This lets them know immediately that you know who you are talking to and avoids the "Hi.  Hi, it's John.  Hi. How are you? Good.  Did I catch you at a good time?"

Ask them immediately "What can I do for you?"
Best answer: "Hi John. What can I do for you?"
This can be a bit pointed, but it cuts right to the chase.  You will find that people will very quickly let you know why they are calling.  You can then respond by letting them know what you can do or that this immediate moment is not a good time.
With a little self-control, the phone can be a productivity tool, not a time thief.  It is there for your convenience.  Remember that next time you are tempted to answer it while in the middle of something.
You will probably even make the person you are with feel important since you did not take the call while speaking with them. 🙂
What are your best phone productivity tips?