TMN Sponsor of the Week: Goboxi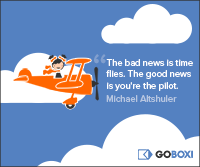 Goboxi is the first application that puts three big parts of all of our online lives together: time management, social management and email management.
They tackle the problem of email organization, project management and to-do lists by using hashtags to organize specific topics and content. This keeps projects organized across many different channels.
The Goboxi Productivity Expert machine learning tool understands and analyzes how each user manages their time and recommends improvements to spend time working more efficiently.
All this information is displayed via a Timeline feature that provides one unified view for email, tasks, calendars and social media activity (Facebook, Twitter and LinkedIn). These features, and more, make managing and interacting with projects a breeze for teams of all sizes.
Take a look at some of Goboxi's killer features by visiting http://www.goboxi.com.