TMN Sponsor of the Week: Evercontact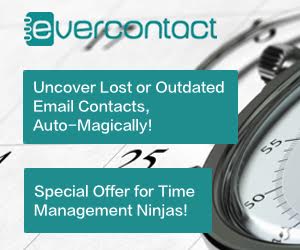 Evercontact is the time saving tool, recommended by Guy Kawasaki, that helps you capture your contacts.
According to Gartner Research, 1 out of every 3 contacts is missing or out-of-date. So apart from the time spent copying and pasting the latest information, you spend hours searching through past emails for the right phone number and going back and forth with contacts to update your mailing list.
Evercontact can solve this problem. It mines your emails to update your current address book (Gmail, Outlook, Google Apps, and soon Office 365) to find contact information in email signatures. Phone numbers, titles and company names that are missing or out-of-date in your current address book are updated, automatically.
With a Flashback, you can recover valuable contacts hiding in your past emails (up to 5 years back), or emails from someone who has left your team. Keep your address book automatically complete and up-to-date with the ongoing daily automatic service.  Evercontact recently ran a Flashback for Guy Kawasaki, who is recommending it as a "very cool tool" that automatically updated 2,351 of his 13k+ contacts.
It's great for personal accounts, and also for teams to keep everyone up-to-date, as Evercontact plugs seamlessly into Salesforce and other CRMs.
Evercontact is offering TMN readers a free one month Flashback to recover contacts in Gmail, plus a free 1 month free trial of the daily updating service. Once you decide to buy it, you get a 25% reduction off a longer Flashback and/or the ongoing service for both Gmail and Outlook.
Get your free Flashback and start your free trial today with Evercontact!