TMN Sponsor of the Week: Sanebox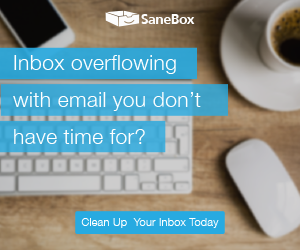 If you are a long time reader of TMN then you already know this week's sponsor: Sanebox. It's one of my favorite time-saving tools.
As much as we try to minimize the amount of email flooding our inbox, there always seems to be more. To get to the bottom, you need to cut through the clutter of non-important emails.
SaneBox is an auto-filtering tool for your email. It sorts, files, and manages your inbox for you. It keeps the important emails in your inbox and moves the lower priority ones to reading folders.
I have used SaneBox for over two years! It keeps my inbox under control.
Sanebox is offering TMN readers $15 towards a SaneBox subscription when you decide to buy. Start your free trial today!