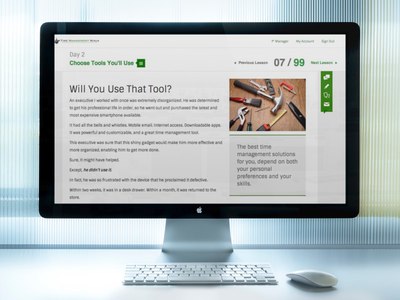 I often get asked for time management advice, coaching, and training.
Many of those asking often say that they don't have time for time management.
To address that need, I am pleased to announce my new online TMN time management course.
Time Management for Those Without Time
Many have purchased my eBook course, today I am pleased to announce that after two years I have updated it to be a full-fledged online course complete with audio lessons, class interaction, and instructor Q&A.
The online class opens today and for the first three days of the launch I am offering a special discount for early birds. Read on for more details or click here to enroll in the class now.
31 (Better) Days to Better Time Management
My original eBook contained 31 daily lessons for better time management.
Now, I have updated this course to make it an online course with 31 daily productivity lessons reinforced by 31 daily audio exercises narrated by me.
As well, I have added a new PDF workbook that you can use to document your work as you take the course. It has all of the daily exercises in one place, and is more practical that trying to print the entire course or exercises individually.
Why An Online Course?
Almost half of TMN readers said in my recent survey that they preferred learning online.
Here are a few benefits of an online course:
Anytime – Don't have time for a class? Now you do. You can take the online course on your schedule… day or night… at your own pace.
Anywhere – You don't have to travel to a class, you can take the course in the comfort of your home. Or even on the go on your mobile or tablet.
Access to Me – An online course allows me to interact directly with more readers. As student of the course, you will have online access through the class to ask me questions to your specific time management needs.
Coaching Too
Some readers have approached me about one-on-one productivity coaching, as well.
I am offering a special coaching package that includes both the course and an individual coaching session. If you are looking for one-on-one attention, this is a rare opportunity to get a discount on coaching directly with me.
3-Day Special Offer
For the launch, there is a three-day special offer on all of the 31 Days products including one-on-one coaching.
If you want some help with your time management, click here to see all of the course details and offerings.
I hope I'll see you inside the TMN course as I'll be there to interact with students, answer questions, and provide guidance.
Click now to enroll in TMN's Online Course
Special Note: If you have recently purchased the original eBook course, and are interested in the new course, please contact me. I have special options… just for you.